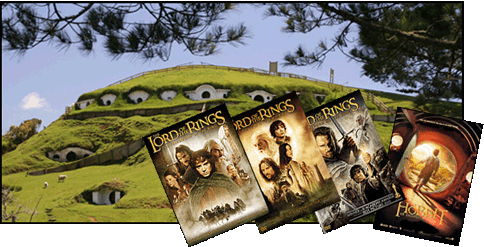 Tolkien Travels: New Zealand's Middle Earth
This A Novel Holiday travel guidebook will take you to the real-world locations where Peter Jackson filmed his TWO Academy-Award-winning Movie Trilogies: Lord of The Rings and The Hobbit. [We anticipate that the three Hobbit movies will win a plethora of awards, somewhere along the way.]
We'll help you journey to every easily-accessible Tolkien film site, and as many remote New Zealand movie locations allowed by your Novel Holiday schedule and budget. We'll also provide reviews of the "Tolkien Travel Packages" offered by various New Zealand tour companies. Some are well worth the expense, others … not so much.
---
New Zealand is a country comprised of two large islands—North Island and South Island—as well as several smaller ones. From 1999 to 2004, and March of 2011 to July of 2012, over 150 large island locations were used to film the Lord of the Rings (LOTR) and The Hobbit movies.
---
North Island Tolkien Film Sites Include:
● The Hobbiton film site is near the town of Matamata. Although all the original LOTR sets were demolished after Jackson finished filming in 2000, the farmer who owned the land restored as much of the Hobbiton setting as he could, to create a tourist attraction: The Hobbiton Movie Set and Farm Tour.
Years later, when Jackson wanted to use the same location to film portions of The Hobbit, the farmer required him to reconstruct Hobbiton with permanent materials! In an October 2011 Video Blog, posted just after he finished Hobbit filming, Jackson reported,
"Hobbiton is going to stay exactly as it is today, which is fantastic. There's real wood, there's real stone, real bricks, and it's gonna be here, hopefully, for decades to come."
● The Taupo Region, where Mordor and Emyn Muil scenes were shot for LOTR.
● Mount Ruapehu, where both LOTR and The Hobbit footage was filmed.
● Wellington—New Zealand's capital city, and home of Jackson's Stone Street Film Studios (used for both LOTR and The Hobbit)—is also home to an easily-accessible woodland location where the very first day of Fellowship of the Ring filming took place, on October 11th, 1999.
---
South Island Tolkien Film Sites Include:
● The Nelson Region is where Dimrill Dale LOTR scenes were shot, and where a section of the Pelorus River was used to shoot Dwarf-Barrel-Riding footage seen in the second Hobbit movie.
● Canterbury Plains is where you'll find the remote rocky hill where the Rohan fortress city of Edoras was built for filming LOTR scenes.
● Fangorn Forrest LOTR scenes were filmed in the area of Milford Sound.
● Twizel is the LOTR Pelennor Fields film site, as well as where some yet-to-be-revealed portions of The Hobbit trilogy were shot.
● Lothlorien LOTR sites can be visited in Queenstown, as can many yet-to-be-revealed portions of The Hobbit trilogy.
---
Unless you live in New Zealand or Australia, visiting Tolkien's Middle Earth film sites can be costly—both in time and money. The goal of this A Novel Holiday travel guidebook is to help you plan the most economical, enjoyable, and extensive holiday possible!